Part Two: Residency programs and medical practices drew them to Tennessee. Then came Dobbs.
Avr 26, 2023 | By Jamie McGee in Tennessee Lookout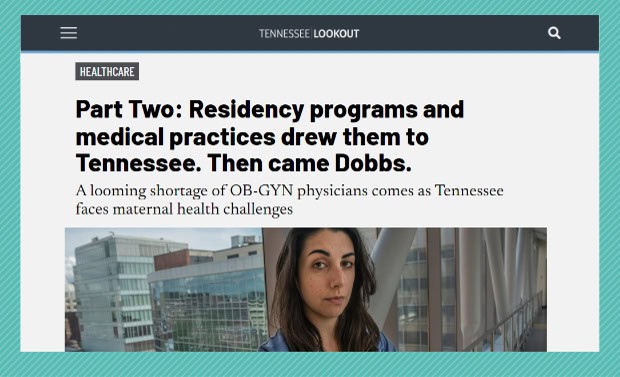 Featuring MSFC's Executive Director, Pamela Merritt.
Recruiting residents to Tennessee is critical to the state's health care workforce. In Tennessee, 46% of residents training in the state stayed to practice in the decade through 2021, according to the Association of American Medical Colleges. That's below the 55% overall state retention rate seen nationally.
"We are an exporter of physicians," Miller said. "We are a growing state. We should be growing the number of physicians, but we are not."
[…]
For many residents seeking to gain abortion training, the solution is not as easy as just excluding programs in more restrictive states, said Pamela Merritt, executive director of nonprofit Medical Students for Choice who is based in Illinois. Students must strategize to avoid not matching at all in what is a highly competitive process. And, some OB-GYN students are drawn to where the need for maternal care is greatest, which often overlaps with where abortion is most restricted…