MSFC in the News
October 6, 2023
Reproductive justice activists continue the fight for abortion access in Wisconsin
Featuring MSFC's Chapter at the Medical College of Wisconsin Roughly 40 people gathered at the Sunburst Statue off Wisconsin Avenue in downtown Milwaukee on Saturday, September 30, to call for …
September 12, 2023
Look Up! Roe Is the Floor, Not the Ceiling
Featuring MSFC's Executive Director, Pamela Merritt. When the Supreme Court overturned Roe v. Wade last June, abortion opponents weren't the only ones ready to embrace a world beyond it. Dr. …
September 11, 2023
Restore Roe, or Go Beyond It? The Question Is Fracturing the Abortion Rights Movement
Not long after Election Day last November, Pamela Merritt joined a call with other abortion-rights activists in Missouri to discuss a daring proposal: sidestepping the state's ruling Republicans by directly …
June 15, 2023
Abortion care training is banned in some states. A new bill could help OB-GYNs get it
Featuring Sami Stroebel, MSFC's chapter leader at the University of Wisconsin in Madison. Sami Stroebel, an aspiring obstetrician-gynecologist, started medical school at the University of Wisconsin in Madison last summer …
May 31, 2023
Dobbs decision now a factor in med school residency picks
Featuring MSFC's Board Member, Rose Al Abosy. When Rose Al Abosy began weighing which obstetrics and gynecology residencies to apply to, she spoke to advisers, considered programs' academics and evaluated …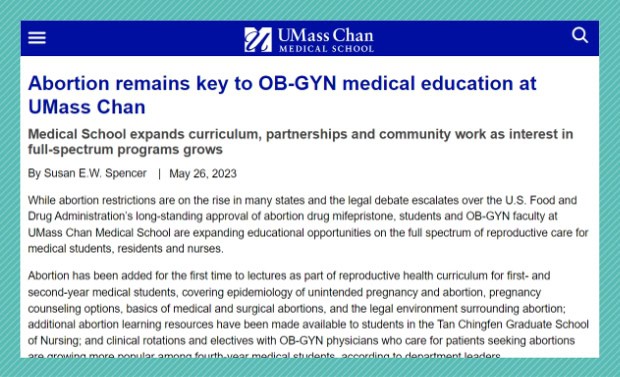 May 26, 2023
Abortion remains key to OB-GYN medical education at UMass Chan
While abortion restrictions are on the rise in many states and the legal debate escalates over the U.S. Food and Drug Administration's long-standing approval of abortion drug mifepristone, students and …
May 23, 2023
OB-GYN Residents Are Required to Receive Clinical Abortion Training. They Can't Do That in Texas.
Featuring MSFC's Board Member, Danna Ghafir. Danna Ghafir doesn't want to leave Texas. The 27-year-old was born and raised here, part of a tightly connected Arab American community spread throughout …
May 8, 2023
N.Y. Assembly must stop blocking abortion bill: The telemedicine shield legislation protecting doctors has passed the Senate but remains stalled
Featuring . Last week, Gov. Hochul trumpeted "major actions" she has signed into law to protect abortion access, including more than $100 million in new funding. Unfortunately, the most significant …
May 1, 2023
Abandoned at birth, medical student fights for reproductive justice
Featuring MSFC's alumna, Jennifer Marino. Third-year medical student Jennifer Marino was abandoned at birth, left in a basket on a doorstep in Newton under a porch light. She was rescued …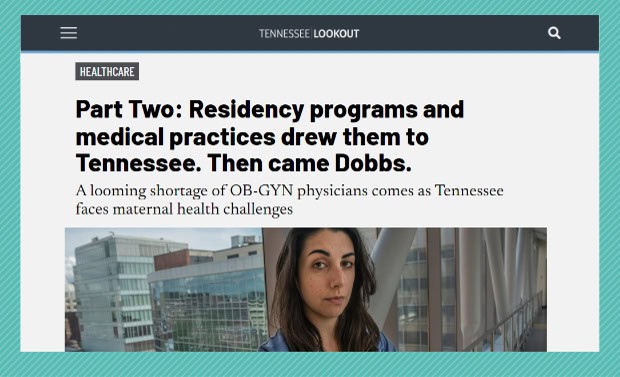 April 26, 2023
Part Two: Residency programs and medical practices drew them to Tennessee. Then came Dobbs.
Featuring MSFC's Executive Director, Pamela Merritt. Recruiting residents to Tennessee is critical to the state's health care workforce. In Tennessee, 46% of residents training in the state stayed to practice …